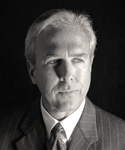 In a previous life Dan Burns was a corporate executive, an entrepeneur, and a business owner.
In 2009, he converted the knowledge he acquired providing consulting and employee placement services to Fortune 500 companies into his book "The First 60 Seconds: Win the Job Interview before It Begins," which is
still available on amazon
. That successful book taught its readers how to behave in interviews, and particularly how that first sixty seconds could move you to the top of the list or drop you from consideration.
Dan is now teaching that next generation of workers at DePaul University.
Shortly after Eckhartz Press was founded in 2011, Dan contacted us about a novel he had written called "Recalled to Life". The theme and concept of "Recalled to Life" is very consistent with Eckhartz Press' previously published novels like "The Living Wills" and "Cheeseland". It explores the father-son relationship from two different perspectives (father and son), and tackles an issue that those of us in Dan's age group (Baby Boomers) are grappling with on a day to day basis: caring for our aging parents.
It's a poignant debut novel, and Eckhartz Press is proud to publish it.
It's available for pre-order now
, and will ship on June 3rd. Be the first on your block to read Dan's novel. You won't regret it.
Much more information about the book and its author will be coming on the Eckhartz Press blog in the coming days.