Did you know that you could give the gift of an e-book? It's true, and it's as simple as clicking a button at amazon. When you're looking for that last minute gift for your Kindle-loving friend or family member, look no further than the tremendous books in the Eckhartz Press catalogue. All of these books are avaiable as e-books at Amazon. Simply click on their titles, and you'll go directly to their pages on amazon.
FATHER KNOWS NOTHING
By Rick Kaempfer (e-book: $5.99)
Our Top Selling Book Last Christmas!
An actual amazon reader review from this 5-star book: "The moment I opened up Father Knows Nothing, by Rick Kaempfer (Eckhartz Press, 2014) and started to scan the uproariously funny, yet heartfelt radio transcripts, contained within the introduction, I knew instantly that I was not going to be able to put this book down! Never in my life has any book moved me to roll on the floor with uproarious laugher, while simultaneously tugging at the heart in profound, meaningful ways that required an entire box of Kleenex. This book is a sparkling diamond, whether or not you have children of your own, this literary gem is a must-read book."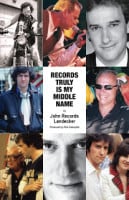 RECORDS TRULY IS MY MIDDLE NAME
by John Records Landecker and Rick Kaempfer (e-book: $8.49)
Our Best Selling Book of All Time!
An actual amazon reader review from this award-winning book: "I have read lots of autobiographies, and this is one of the BEST ones I have EVER read. From the moment I received this book, I could not put it down. This book will make you laugh, cry, and shake your head in disbelief at the interesting and colorful life Mr. Landecker has lived. Like all of us, he's made mistakes, but he's learned from them, and he is a better person for it. He has shared some very personal things in this book. He went full tilt & totally uncensored with it when he wrote it-some of the things were good, some of them were bad, and some of them were OMG!"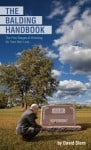 THE BALDING HANDBOOK
by David Stern (e-book: $5.49)
An Amazon Best-Seller!
An actual amazon reader review from our top selling e-book: "What a great book for both those with or without hair. While I enjoy the fact that I have a full head of hair that I have to maintain, I found myself sympathizing with those who are struggling in life. We tend to put struggles on those who are hungry, poor, etc, but how can we improve as a society unless we acknowledge that those who are bald also need help. Great read! Loved it!"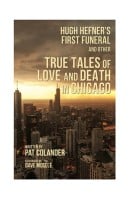 HUGH HEFNER'S FIRST FUNERAL AND OTHER TRUE TALES OF LOVE AND DEATH IN CHICAGO
by Pat Colander (e-book: $5.95)
Our Brand New Book!
A review from esteemed writer Denise DeClue: "Pat Colander toiled with me in the belly of the Chicago journalism beast in the 1970s and 1980s. When major stories were reported, she asked questions. When the questions were poorly answered or evaded, she asked even more questions of even more people. Then in a clear, true voice, she wrote it all down. She found the real stories behind the stories and this collection of her work is just great. She ought to be long-listed for the Man Booker prize."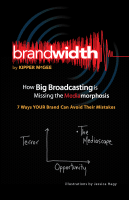 BRANDWIDTH: HOW BIG BROADCASTING IS MISSING THE MEDIAMORPHOSIS
by Kipper McGee (e-book: $5.99)
A 2015 Release!
An actual amazon reader review from this highly rated book: "This is a smart book written by a smart man, who clearly understands where media has been and where it's going. At times, Kipper takes the broad view ("if the broadcasting industry dies, it will be ruled a suicide."), at other times he takes the reader straight to new century basics ("if you operate a small business, if you haven't already, CREATE A DATABASE"). While this is a book about media, it's also a smart business book with applications that transcend radio, cable, tv, etc. Read it and learn."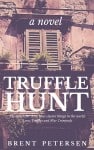 TRUFFLE HUNT
by Brent Petersen (e-book: $5.99)
A 2015 Release!
An actual amazon reader review from this 5-star book: "Yes - I loved it. What a **fun** read. I found it to be a 'page-turner' and stayed up into the wee hours to finish in two sittings. "Truffle Hunt" is way more that a 'foodie' book, which some may have assumed. For the history buff, there is a compelling and complex story of the troubled Istria region with all of the wars, ethnic cleansing, purges and resulting current simmering resentments that would naturally remain. For the culture buff, there are the story threads of family traditions and love of the land that create such a vibrant sense of place. For the foodies, yes, there is abundant detail about what makes food truly 'great', and how the creation and sharing of magnificent food is as much the salvation of a people as having their land and an ability to make a living. Then, of course, there is the unique story of the truffle itself and the astounding subculture of the harvesting and the marketing of such a treasure. Buy this book and be ready to Enjoy!!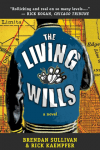 THE LIVING WILLS
by Brendan Sullivan and Rick Kaempfer (e-book: $3.99)
Our Best Selling Novel Ever!
An actual amazon reader review of this widely praised book: "I just finished reading Living Wills and absolutely LOVED it! I could barely put it down - read it in less than 48 hours! I'm a pretty avid reader and this one of the best stories I have ever read and the telling of it is simply superb. If you're from Chicago, you'll enjoy it even more. It somewhat reminded me of The Five People You Meet In Heaven by Mitch Alboms, which I liked, but this is a better story, better read and I enjoyed it so much more. If Albom can achieve bestseller status there is no reason this shouldn't too as it's better. Definitely now one of my favorite books and I will be highly recommending it! I can't wait for your next book to come out. Congratulations on a fine piece of work, I hope someone makes a movie out of it :)"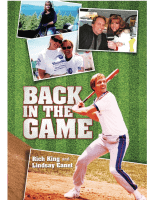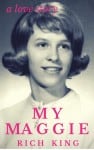 BACK IN THE GAME
&
MY MAGGIE
by Rich King (e-books: $5.99 each)
The Complete Rich King Collection!
An actual amazon reader review from My Maggie: "My Maggie was an inspirational book. How Maggie fought against deafness, blindness, and cancer, not only to survive, but to attain a college degree, is amazing. Rich King stuck by her and his marriage vows, which seems to be uncommon now. Rich King writes about his struggles with being a caregiver while maintaining employment, as well his struggle with religion and questions about God. I believe that the challenges Maggie faced caused him to have these doubts, but I believe in the end, after Maggie finally gave up her fight, Rich King may have developed faith and a connection with God and the belief in the eternity. My Maggie will bring tears to your eyes, but will also leave you feeling motivated and inspired."
An actual amazon reader review of Back in the Game: "Very well done. Rich King writes warmly and candidly about a difficult subject. Shares many interesting insights into his personal and professional lives."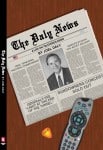 THE DALY NEWS
by Joel Daly (e-book: $4.99)
A Chicago Broadcasting Icon!
An actual amazon reader review: "A good short read for Chicago TV fans...Learned more about Joel Daly than I ever knew. Summa cum laude Yale grad, Chicago broadcaster at WLS TV from 1967 to 2005 and later life student who went back to law school at age 50 and worked as an attorney while still on the air."
BEST SEAT IN THE HOUSE: DIARY OF A WRIGLEY FIELD USHER
by Bruce Bohrer (e-book: $5.99)
A Must for all Cub Fans!
An actual Amazon reader review: "Wonderful tell-all, great insider information :) A fun read! As a CUB fan, Great! Knew some of the ushers."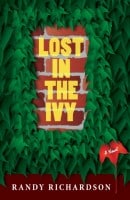 CHEESELAND
and
LOST IN THE IVY
by Randy Richardson (e-books: $2.99 and $3.99)
The Complete Randy Richardson Collection!
An actual amazon reader review of Cheeseland: "Cheeseland is a poignant and often funny account of friendship lost and friendship found, and the healing of old wounds. It's a nail-biting ride along with Danny and Lance as they ditch their graduation and take a road trip to Wisconsin where they drink beer legally (sort of), encounter some eccentric people, and confront demons of the past. A quick, engaging read with authentic and relatable characters."
An actual amazon reader review of Lost in the Ivy: "This is the perfect contemporary mystery. It has three-dimensional characters, innovative plot twists, cryptic hints, and an unpredictable, nail-biter of a conclusion. Not to mention the love/sex/profession subplots, all against a highly detailed backdrop of Chicago and Wrigleyville from someone who clearly knows and loves them well."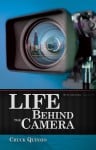 LIFE BEHIND THE CAMERA
by Chuck Quinzio (e-book: $9.99)
An inside-local-television-news masterpiece!
An actual amazon reader review of this 5-star book: "Compelling, interesting, scary and very very funny. Chuck has seen it all and doesn't hold back. Buy it, money well spent!"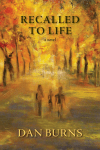 RECALLED TO LIFE
by Dan Burns (e-book: $5.99)
A wonderful father-son story!
An actual amazon reader review of this novel: "When it comes to what is important the answer is really best found in how you spend your time. If you examine that we are able to get a great picture as to what really matters to you and what you have given your heart to. Dan Burns reminds us of what really matters in this thoughtful yet entertaining novel, and I think you will not only resonate with the characters but see a piece of yourself in them as well."