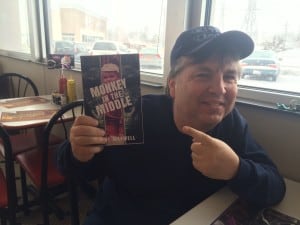 Milwaukee's paper of record, the Milwaukee Journal, reviews Dobie Maxwell's "Monkey in the Middle" in their Sunday April 24th edition.
You can read the full review by columnist Jim Stingl here.
The article is mostly about the bank robberies at the heart of the book, complete with facts from the orignal Milwaukee Journal coverage, but here's an additional excerpt...
There has been talk of turning "Monkey in the Middle" into a movie. The book opens with Maxwell sharing his rough start in life, which included having a drug addict mother who abandoned him and his siblings, and a father who was in a motorcycle gang. Maxwell was separated from his siblings — they have since reunited — and raised from age 5 months by his grandparents near 20th and Hampton.

Maxwell calls himself a dented can and, sarcastically, Mr. Lucky. But he has made a life working on the radio in Milwaukee, Chicago, Reno and Los Angeles, and in stand-up comedy, now mostly as a regular at Zanies clubs in the Chicago area. He also teaches comedy.

Maxwell's humorous approach to life comes through often in the book, even in his exchanges with federal agents and prosecutors. "I realize you're a comedian, but this is damn serious," one of them warns him.
Monkey in the Middle is available right here
at Eckhartz Press.