Who is Mark Gelinas?
He's this incredible guy
, fighting the battle of his life...
Eckhartz Press is proud to team up with Mark to tell the story of his inspiring struggle. Mark got the first copy of his book "Gel Strong" in the mail the other day. Great to see a big smile on his face. We're going to print with the rest of the books as we speak.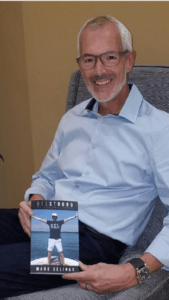 The book is available for pre-order right now
, and it will ship the last weekend of November--in plenty of time for Christmas. A portion of the proceeds will be donated to Winship Cancer Institute of Emory Healthcare in Atlanta. GA, to support their ongoing research in an effort to win the battle over cancer, specifically pancreatic cancer.
Those impressive professionals are the heroes of this book.
It's a remarkably inspiring book and we are honored to be able to help spread the word.