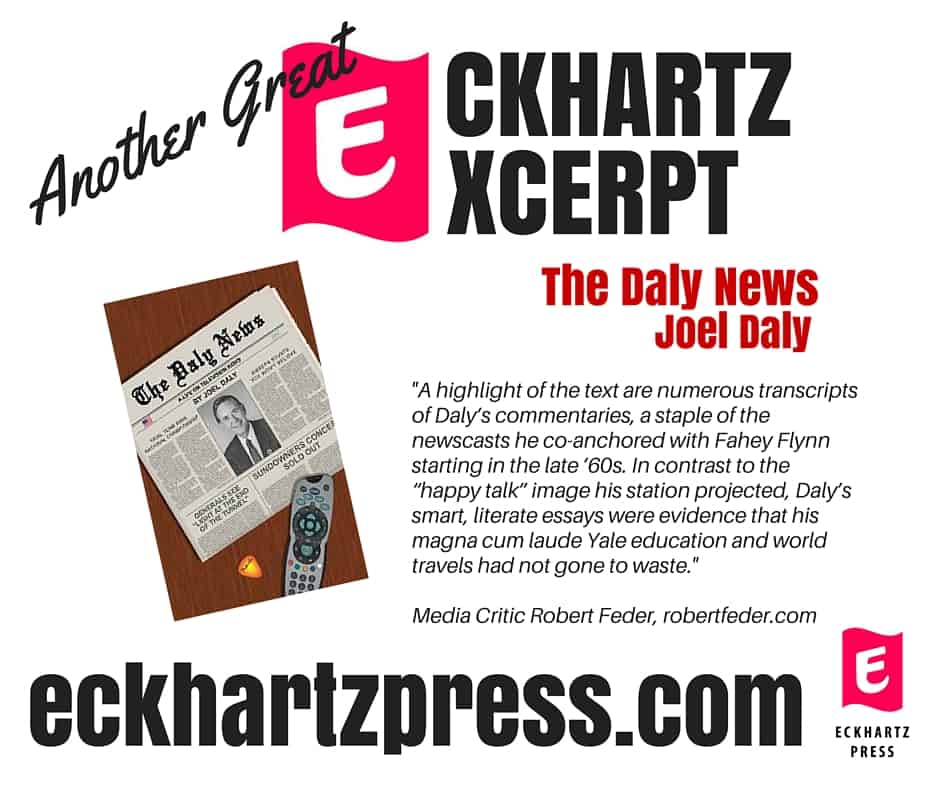 As Robert Feder noted in his review of
"The Daly News"
, one of the joys of Joel Daly's book is when he dips into his archives and shares some of his nightly commentaries. He did them for years and years and received Emmy awards for his work. This one was his commentary on January 27, 1978. His last one...
Georgie Jessel once said of show business: "Nothing is so permanent as change." And that certainly includes television!

This is my last regularly scheduled commentary on this program.

It is the judgment of management that they are anachronistic, time-consuming and action-stopping; that they do not enhance the tempo of a contemporary news program, or properly utilize the new electronic tools of the trade.

Furthermore, it is their opinion that devoting myself to preparing a daily commentary dissipates energy and experience that might better serve the program in other ways.

So be it?

Ten years, more than 3,000 commentaries. Never sued, never censored. It's a record of which I am proud.

Never intended to preach or provoke or hurt, the nightly essays into which I poured so much pride and effort were conceived simply to make you think and occasionally to make you smile.

Never a critical success, they didn't fit the critic's concept of biting controversy. Too much heart and not enough hardness I fear. But during the incredible decade just passed, they provided a forum for fact and opinion that would otherwise have been ignored.

I have a bookshelf of awards, including three Emmys. The last of which I am most proud: an award for "Best Television Writing."

In a medium where so often the picture ignores perspective, and motion, becomes meaning, it was a great satisfaction to harvest the riches of language, to write a little poetry, to quote a little Shakespeare. Or e.e. cummings who said: "The reward in a job well done is having done it." I have done it, and I am richly rewarded.

And, if it's true, "nothing is so permanent as change," nothing can change the permanency of the experiences we shared the past 10 years.

But now I look forward to new opportunities—new challenges and projects—that will still in some way say, "I'm Joel Daly."
Throughout the year Eckhartz Press will be featuring a few more of Joel's commentaries. Not much was going on during his years as a commentator...other than Vietnam, Assassinations, War Protests, and Watergate. With the benefit of time, it's really something to see how prescient Joel really was during that tumultuous era.