April 4th, 1968 is a momentous day in American history. John Landecker remembers it well, and tells the story in his book. From "Records Truly Is My Middle Name", page 68...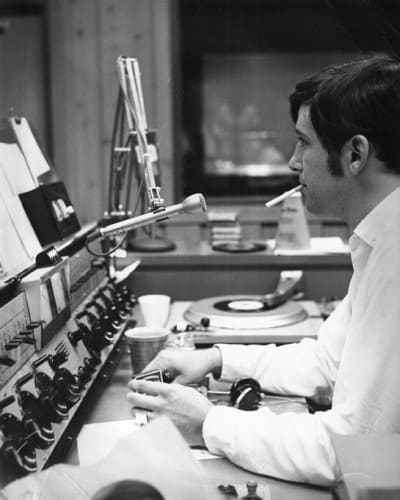 I can tell you the exact date of my most memorable experience at WILS-Lansing. It was April 4, 1968. We had a very special guest in the studio that day; Stevie Wonder. Stevie was a big star at the time for Motown Records in Detroit, but he also supported a local school for the blind in Lansing, so he came to town semi-regularly. The music director at WILS (Craig Dudley) knew Stevie, and knew that he loved playing disc jockey, so he invited him to come to our station, sit at the control board, play records, and talk on the air.
I was there that day, and was lucky enough to watch him in action. It was just an amazing sight. He cued up the records, turned the knobs, turned the microphones on and off; you name it. Even though he couldn't see a thing, he knew exactly what he was doing. There were a few Motown Records employees with him, but he was doing it all by himself. I was standing in the back of the studio watching the whole thing, in awe of his abilities.
That's when the news came across the wire that Martin Luther King Jr. had been shot.
At first it wasn't clear if King was dead or not, but we all suspected he was. An instant tension filled the room. The Motown executives didn't say a thing. None of the radio station employees (including me) responded, and neither did Stevie. But we all knew we were experiencing a significant moment.
Even though this clearly affected him, Stevie was a total pro. He finished the show.