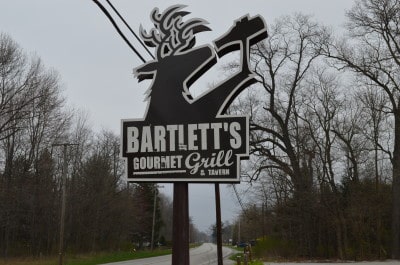 On November 1st from Noon-3pm author Pat Colander will be hosting a book release party for her great book "Hugh Hefner's Last Funeral and Other Tales of Love and Death in Chicago" at Bartlett's Gourmet Grill at 131 E Dunes Hwy, Beverly Shores, Indiana.
Bartlett's is a famous eatery in the NW Indiana area and they are really pulling out all the stops. They're calling it the Halloween Hangover Bash. Festivities begin at noon with spooky special brunch items: locally-sourced, DISMEMBERED and RECONSTRUCTED appetizers; BLOODY, BLOODY Marys; SUICIDE by chocolate; man-sized SLABs of meatloaf and other DEATH-defying delicacies. This is an ADDAMS FAMILY FRIENDLY party. ZOMBIES WELCOME.
And of course, Pat's great book will be there for sale, and Pat will be there to autograph copies of the book.
Come for the book and stay for the food, or come for the food and stay for the book. Both are well worth your while.