Just posted at Eckhartz Press...
2021 marks our tenth year as a publisher, and every month we'll be dipping into the archives to celebrate that anniversary. April has typically been a busy month at Eckhartz Press. For instance, check out some of these April moments from our authors Joel Daly, Randy Richardson, Becky Sarwate-Maxwell, Rick Kaempfer, Kipper McGee, John Records Landecker, Brendan Sullivan, Mitch Michaels, Beth Jacobellis, Brendan Sullivan, David Stern, and Dobie Maxwell.
Joel Daly was making the rounds in April 2014 promoting his book The Daly News. He appeared on WGN Radio with Pete McMurray in the old showcase studio on Michigan Avenue. He did a great event at the Beverly Arts Center in Chicago with Penny Golden. And after appearing on Bruce Wolf and Dan Proft's show on WLS Radio, he wandered back to his old stomping grounds at Channel 7. We were there to snap a few pictures of this important moment. We miss Joel now as much as he clearly missed the television studios that were his home for nearly 40 years…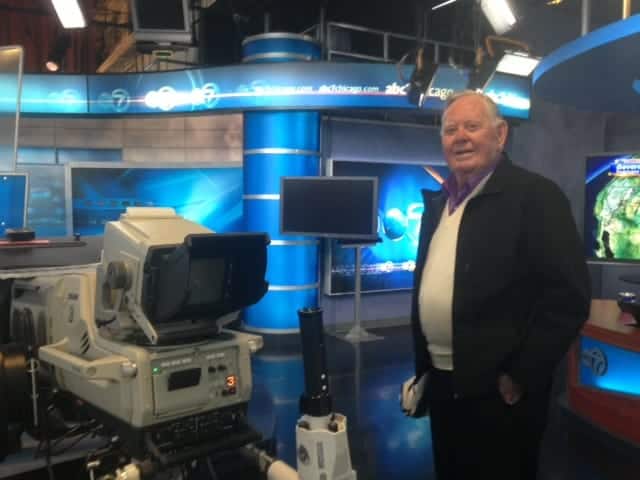 In 2018, we were very excited to be launching the book Cubsessions by Randy Richardson and Becky Sarwate-Maxwell. The launch party was probably our most successful launch party ever. Playtime with Bill Turck & Kerri Kendall did a live broadcast. Cubs Hall of Famer Fergie Jenkins stopped by, and so did other former Cubs like Rich Nye, Steve Trout, and Gene Hiser. Murphys Bleachers opened up the industrial door to let the Budweiser Clydesdale into the packed bar. We sold something like 300 books and raised real money for good causes. What a day. Lots of photos can be seen here, but below is the moment that Fergie stopped by to chat with his old teammate Rich Nye…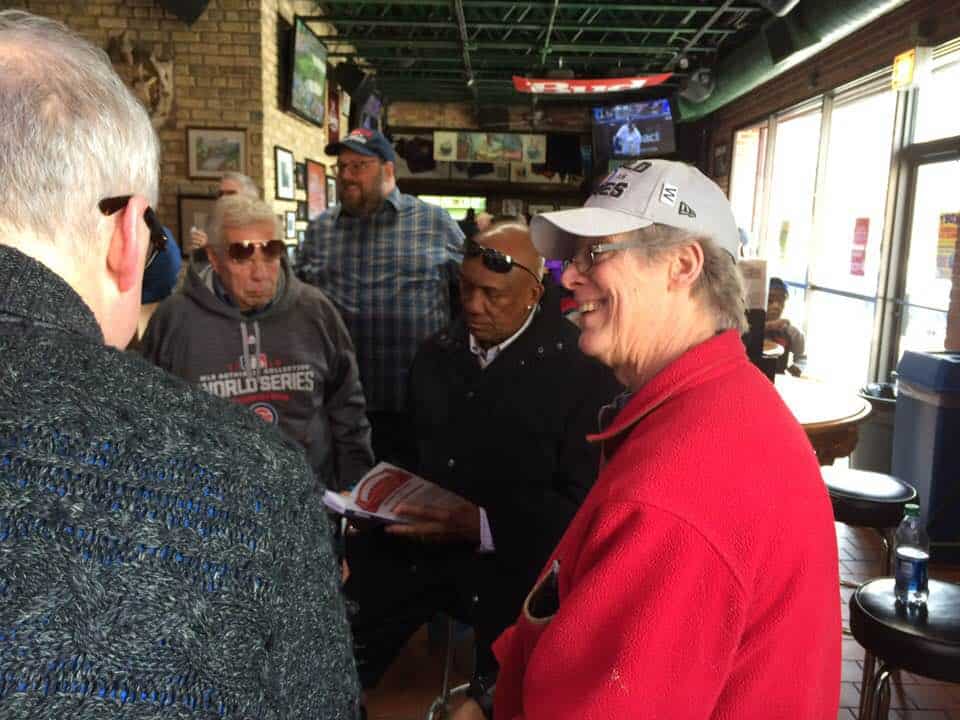 In 2019, Rick Kaempfer was all over Chicagoland promoting the first edition of his book EveryCubEver. One of those destinations was WGN-TV's morning show, where Larry Potash enlisted Rick to help in a trivia quiz featuring cast members Pat Tomasulo and Mike Toomey. Watch it below…
In 2015, Radio industry expert Kipper McGee's book Brandwidth rolled off the presses for the first time via Eckhartz Press. This book is so highly regarded in the industry, a second edition came out in April 2018.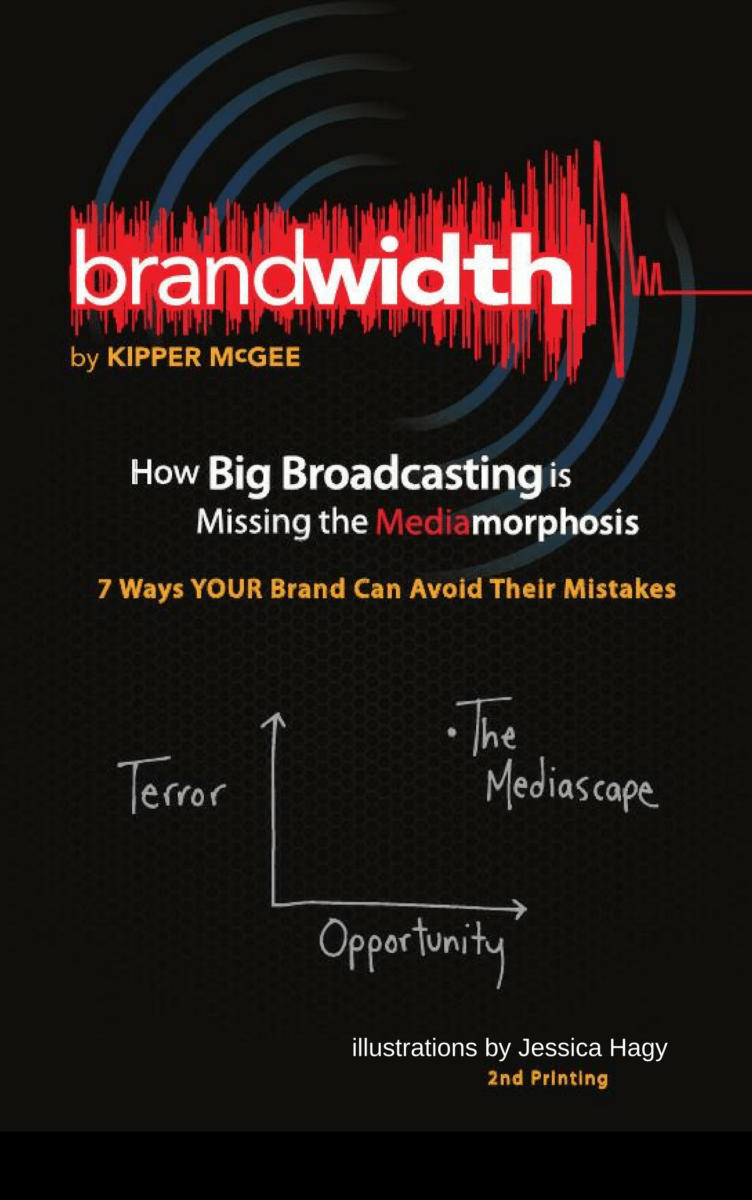 In 2013, John Records Landecker made dozens of appearances in April to promote his book Records Truly Is My Middle Name. He was on with Roe Conn and Richard Roeper at WLS Radio, he did a tour of Northwest Indiana, and he appeared on WCIU-TV's morning show to visit with his old friend Melissa Forman, and her co-host Jeanne Sparrow…
In 2018, Beth Jacobellis was out promoting her novel Cameo. One of the most memorable stops was at the WGN Radio studios, where she spent some time talking to WGN morning man Steve Cochran. You can view some photos from that bright spring morning here.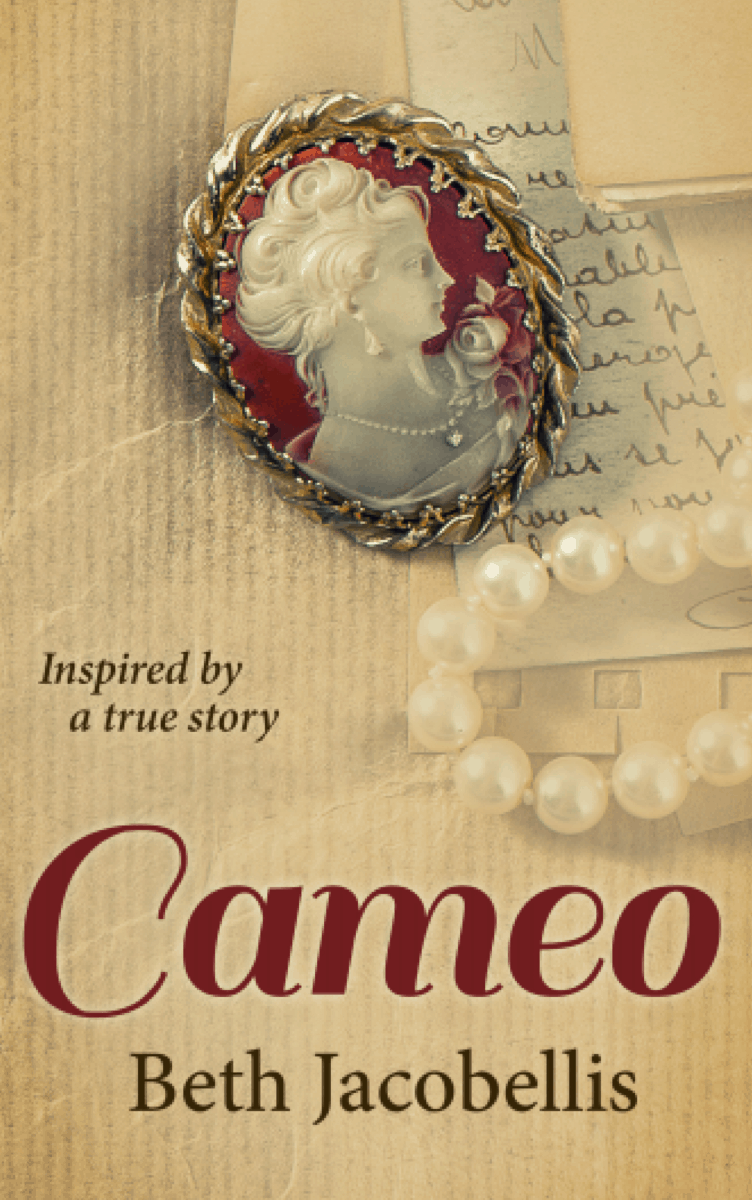 In 2019, Mitch Michaels was still working his book Doin the Cruise. One memorable stop took him to a great little record store in Westmont for National Record Store day. Mitch held court as a who's who of fellow radio folks stopped by including Wendy Snyder, Jimmy Mac McInerney, John Calhoun, Samantha James and more.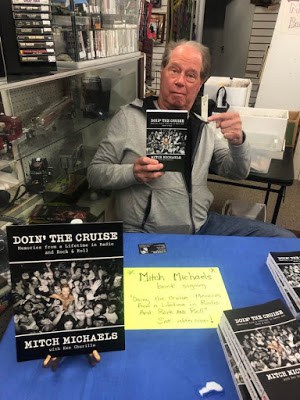 The first book ever published by Eckhartz Press is The Living Wills by Brendan Sullivan and Rick Kaempfer. It was published in the fall of 2011. By April of 2013, it can be incorporated into Marist High School's English curriculum. Brendan Sullivan was there on that first day to talk to the students about the book…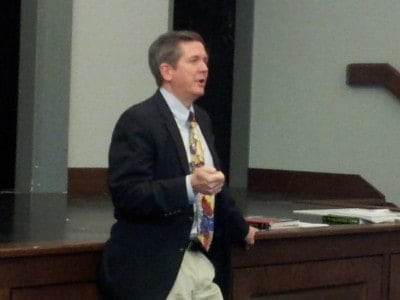 In 2013, David Stern was out promoting his book The Balding Handbook: Five Stages of Grieving for your Hair Loss. One of the stops was WPWR-TV. At the time, Mancow was hosting a television show every morning on that station. The day Dave was there, famous Chicago sportscaster Mike North was co-hosting the show. A full recap of that surreal day is here, but here's a photo of Dave and Mike. Stern made North take off his hat to show his hair…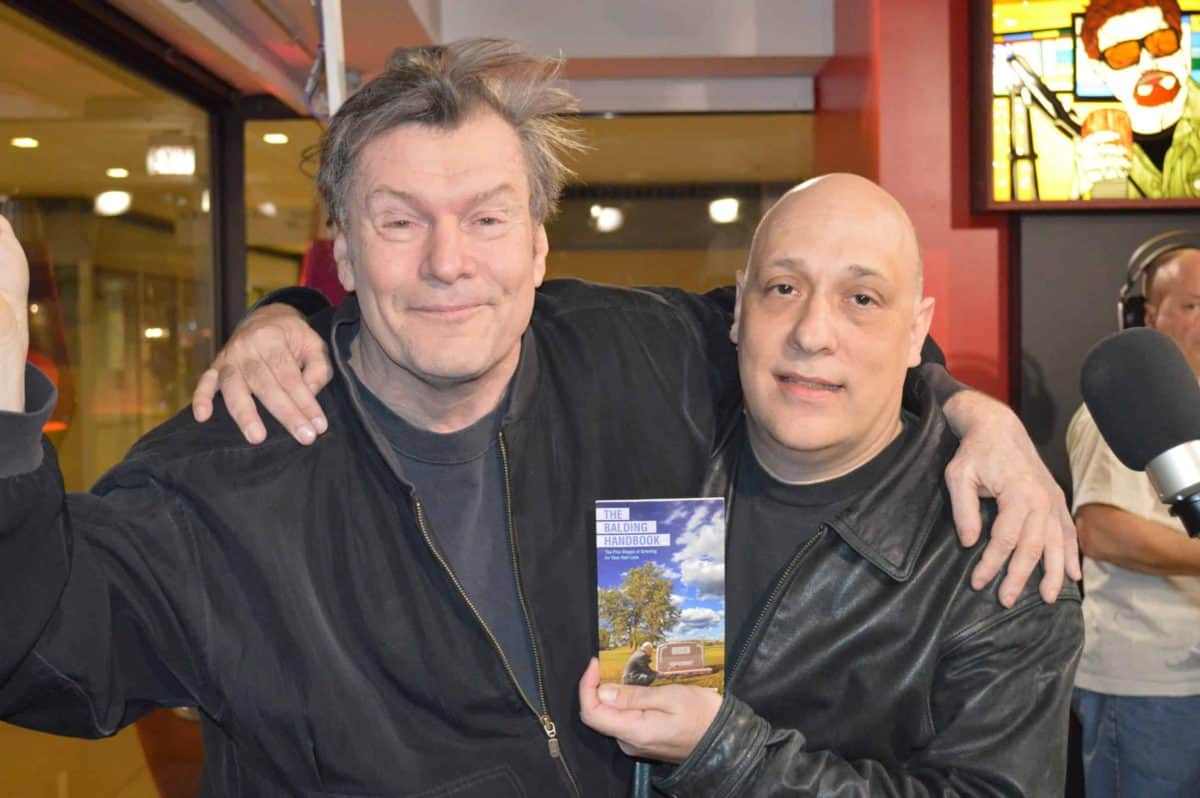 In 2016, Dobie Maxwell spent April in his hometown of Milwaukee promoting his book Monkey in the Middle. The Milwaukee Journal did a major spread on the book, and here's a short excerpt of what they wrote…
Maxwell calls himself a dented can and, sarcastically, Mr. Lucky. But he has made a life working on the radio in Milwaukee, Chicago, Reno and Los Angeles, and in stand-up comedy, now mostly as a regular at Zanies clubs in the Chicago area. He also teaches comedy. Maxwell's humorous approach to life comes through often in the book, even in his exchanges with federal agents and prosecutors. "I realize you're a comedian, but this is damn serious," one of them warns him.
Dobie also threw out the first pitch at a Brewers game, appeared on the local morning television show, and made an appearance at Milwaukee's Shank Hall…